New Releases Every 3 Weeks
Tracks are released in parallel on YouTube this website and streaming services a week or so later.
Check back often
The tracks are kept short for YouTube but if you are working on a project that requires extended versions get in touch and we can discuss your project.
"I don't want to wake up" is a personal piece of music in memory of a very special woman who passed away far to young.
Read More »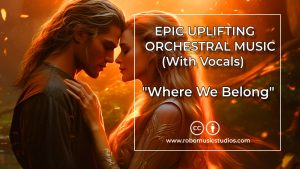 Where we Belong is an orchestral backed song. Choirs, brass, synths and soaring strings! This piece was made to be used as a background music
Read More »
https://youtu.be/pMsEupHkVG0?si=mxNj4wngvApHrpTx "A Boundless Hope" is a expansive orchestral hybrid track featuring choirs, bombastic drums and heroic brass. This piece was made to be used as
Read More »